About
PSF
Pakistan Science Foundation is the apex body to act as financing agency for the promotion of basic and fundamental research on scientific problems relevant to the socio-economic development of the country, the utilization of the results of scientific and technological research including pilot plant studies ...
Read More
Message from the
Chairman PSF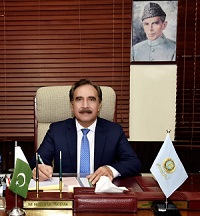 At all scales, the role of science and technology in resolving economic, social and environmental problems is crucial. Attainment of scientific knowledge and appropriate technologies is a key to achieve this goal. Moreover, we should use novel and integrated approaches that fully enrich existing and new scientific knowledge. In this connection, universities, research and development institutes and industry can play a leading role tackling all major problems identified so far.

- PROF. DR. SHAHID MAHMOOD BAIG, S. I.
Latest
News
Find out latest news at Pakistan Science Foundation
0
Scholarships Awarded (STFS)
Research Support
for Scientists
Pakistan Science Foundation provides the following research support to the scientists:
International
Linkage
EU Horizon 2020
France
China
UNESCO
Srilanka
Turkey
Balgaria
Iran
More on
PSF Website
Pakistan Science Foundation's
Subsidiary Organizations
PSF has two subsidiary organizations.
Pakistan Scientific and Technological Information Center
&nbsp QAU Campus, Islamabad.
&nbsp Ph. 051-9248103
&nbsp View Details | Visit Website
Pakistan Museum of Natural History
&nbsp Garden Avenue, Shakarparian,Islamabad
&nbsp Ph. 051-9249239
&nbsp View Details | Visit Website